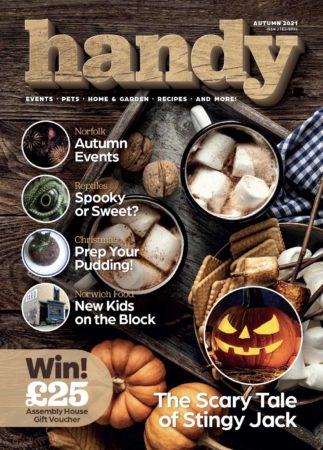 Your local, independent Costessey magazine.
We're a local, independent magazine featuring articles, puzzles, competitions and local businesses. Read by an estimated 17,000 people across Costessey and Norwich, Handy is the perfect place to advertise your local business.
7,450+ delivered to Costessey
1,000 to pick up around Norwich
Under £10 per month to advertise
Great value local advertising
Every three months, Handy is professionally produced and reliably delivered to thousands of properties, in a popular and fast-growing area of Norwich. Each issue contains local articles, puzzles, competitions, events and lots of local businesses. An essential guide for anyone living in Costessey.
Handy gives local businesses an effective, affordable and targeted advertising solution – providing a cheaper alternative to leaflet distribution, while bringing all the benefits of advertising in a reputable, trusted publication.
"Handy has helped our business grow so much. We would highly recommend!"
Handy is trusted by locals
Recent research shows that people place more trust in printed advertising than online. With the rise of fake news and online scams, print rises above. It's a more reliable source of information and Costessey residents look forward to receiving their copy.
Printed advertising is memorable
People read our magazines when they're ready to sit down and relax, so they are much more likely to take in and remember information. The response rate is also higher.
Locals care about their Handy magazine
People care about their local area, so it's no surprise they hold on to their local magazine until the next issue arrives. It's a handy, regular source of information and there's no doubt over trust or reliability.
Next Deadline: 27 May 2022